Read Our Reviews For Top Rated Dealer In Madison, OH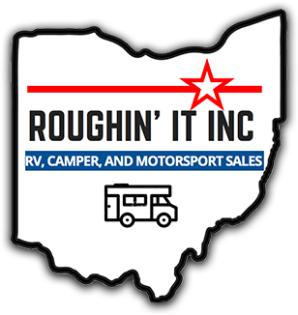 Jan 28, 2023,
Diana von Loewe
"
By far this place has the best staff. Big selection of new and used campers, golf carts, motorcycles, RVs and more. Love this place!
Jan 28, 2023,
Kimberly lutz
"
Great customer service! All the employees including the owner make you feel like family and not just another customer!
Jan 7, 2023,
Audrey Slubowski
"
Excited about our new Palomino. Roughin' It was easy to deal with... Small issue was dealt with in a timely matter. This is actually our second purchase from this dealership. Thanks again to the Roughin' It team. Audrey S.
"
Great dealership with RV Service on site!
Dec 21, 2022,
Direct Auto Network
"
First time purchase at Roughin' It Smooth transaction from start to finish. Phil the salesman was easy to deal with. There's something to say about doing business with a small locally owned business.
Dec 21, 2022,
Kevin Macaluso
"
Amazing folks to deal with, Ashley, Phil, and the entire staff make you feel right at home. Highly recommend you give them the opportunity to fulfill your RV desires!
Nov 15, 2022,
William (Buckeye Bill) Holm
"
Ashley and her crew were absolutely awesome. They made repairs and upgrades on my travel trailer and on three of my motorcycles. Their prices were excellent the labor was even better. They really know what they're doing over there I would never hesitate to bring another piece of equipment there.
Oct 22, 2022,
Abdul Robertson
"
Today was a-day to remember, we got our RV and the experience from start to finish has been impeccable!! The staff was extremely thorough, considerate, and consistent with the entire transaction. Phil, Dave, and Frank are some really great individuals and very professional. Thank you !!
Oct 8, 2022,
Tracy and Steve gortz
"
Very good service was polite and very help easy to deal with
Aug 29, 2022,
Tracy Hodson
"
Great customer service! They were very friendly and knowledgeable.
Jun 21, 2022,
Rick and Sue Fitzgerald
"
My wife and I were blown away with the treatment we received at Roughin It! We were camping for our first time at Geneva on The Lake, and had no intention of buying an RV on our camp out . Our salesman, Phil, was very knowledgable, helpful and friendly, and we can't say enough good things about our experience. Ashley went above and beyond by following us out to our campsite and purchasing our smaller RV. Very good people, and a very good experience! Would highly recommend doing business with these professionals any time!! Now we have the room (and luxury) to make camping that much better, and being able to experience it with our grandchildren with all the extra space! For not having any intention of doing this during a weekend get a way, we were very impressed with everything they did to help us out!
Jun 3, 2022,
JoAnn Gulish
"
Phil O. Is wonderful to work with. Sent us a video and we were very happy with our camper. Went above and beyond.
May 31, 2022,
Deb Petrick
"
Wonderful helpful and friendly people! Just purchased our first travel trailer. They were great camper is awesome!
"
They did excellent work getting us our camper!!!
May 3, 2022,
2 Twisted Cycles
"
Won't get much better friendliness and just amazing people!
"
I will never go anywhere elseThe staff is great the quality of work is great They don't waste no time getting the work done for you. They value you as a customer. Cant say enough about these guys.Tony is a great mechanic very knowledgeable. 🌟✨️✨️✨️✨️✨️✨️✨️✨️✨️
Mar 26, 2022,
Shiloh Linden
"
Best RV, motorcycle, golf cart place around. Great service . I'm a return customer.
Mar 22, 2022,
Brett Hixson
"
Just bought my first bike from these guys. In all my ignorance they were all so patient with me, answering all my questions. Not once did I feel cheated or like I was given false information just to make a sale. Although they were all very busy, they still made time for me as best they could. Also, the shop dog is just a great touch. 10/10 would recommend!!
"
Great transaction, made the whole process very smooth and professional!
"
Very professional service, great communication, and made the whole process very smooth. Great transaction and would definitely recommend!
"
After visiting several rv dealership in Ohio, I chose Roughin' It, to purchase my RV, Phil our salesman was great and very knowledgeable. I told Phil what we where looking for and he was able to meet our needs. A really laid back atmosphere. Before you purchase somewhere else give Roughin 'It a call, I'm glad I did.
Jan 12, 2022,
Frank Yurisic
"
Working with Ashley at Roughin it RV on my Riverside warranty was great since the horrible experience I had with Camping World.
Dec 21, 2021,
Steven Gill
"
Nicest folks you will ever do business with! We bought site unseen going by the pictures and Pauls overall report of the Cougar 5th Wheel. We traveled 13 hours to pickup the 5th wheel and everything was spot on exactly how Paul described it. What a pleasure it was meeting the folks at Roughin' IT!.s.g.
Nov 6, 2021,
Natalie Kotar
"
Great place to purchase from. No pressure with sales. We have had some issues with a camper we purchased, but the Owner has been so helpful and made it simple to communicate with the manufacturer about this. She was responsive via text and calls any time of day or night, and has looked out for us to make sure the repairs have gotten done. We will definitely return here in the future, whether its for a trade-in or maintenance on our camper.
Oct 20, 2021,
Scot Carion
"
Had a fantastic experience here! Staff was very friendly and knowledgeable, great communication (emailed questions were answered immediately), and WHAT A SELECTION! Highly recommend doing business here and I will be back.
Oct 16, 2021,
Diana Orloff
"
Everyone was great during the sales process. The team was honest and took time with us. A week after we bought our "as is" travel trailer, we realized that the microwave did not work. The light came on, the carousel spun, but it did not heat the food. We recognize that this would be an easy miss during their inspection since it "appeared" to work. We contacted Ashley and she was awesome. Even though we bought it "as is" she agreed to either fix or replace the microwave. Our trailer was fixed and back to us in just a couple days. Great customer service. Thanks again!
Oct 12, 2021,
will dougherty
"
They are super friendly professional and make things fast and easy I will be doing business again with them
"
Super great people will definitely be back to do business very professional and helpful great people.
Sep 27, 2021,
Troy Sherwood
"
Great people and great prices
Sep 18, 2021,
Mark Wilson
"
Great service great to work with. I will return
Powered by
Dealer Car Search
Disclosure
The reviews displayed may or may not be a complete set. Reviews may be removed if they:
i. Are abusive. An abusive review or comment is one that makes personal attacks, threatens, or harasses others, or uses profanity.
ii. Violate privacy. Reviews that mention specific names of individuals or personal information in a manner that is inappropriate and/or unrelated to the performance of the service rendered are subject to removal.
iii. Are not from a current customer.
iv. Contain material falsehoods.
v. Are deemed inappropriate.
To encourage all feedback, positive or otherwise, an equal incentive for reviews, regardless of rating, may have been provided to the reviewer.
Google reviews provided via APIs https://www.google.com/+/policy/embedded-content.html